Whilst playing Crystal Queen you might think it looks familiar. In fact, now you come to think about it, it does look a little bit like Frozen! There's no denying the fact that the movie Frozen was an absolute smash hit. It grossed over $1.2billion globally and has spawned a huge range of merchandise. Frozen themed parties, costumes, books, toys, and soundtrack downloads are common place in many households around the world.
However, if as an adult you enjoyed the theme you might be inclined to play a sort of Frozen-esq video slot from Quickspin.
Crystal Queen Artwork
Crystal Queen is a 5 reel, 56 payline video slot featuring similar characters to Frozen. You'll spot a friendly looking reindeer (or is it an Elk? it's hard to know for sure), and a handsome woodsman. The star of the show is the Crystal Queen herself. White haired (like Elsa) with a glittering crown adorned with crystals, her character is framed against a deep purple and pink starry night sky. There's a red haired character too in the form of the beautiful princess.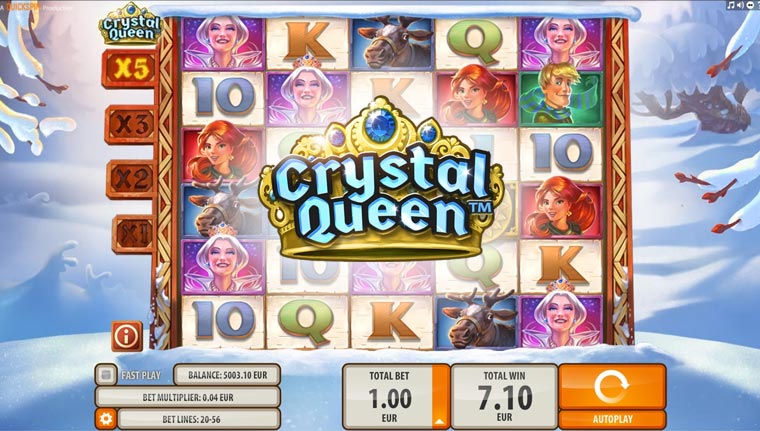 Game special features
The scatter symbol is a stunning red jewel in a gold frame. Hit 3 or more jewel symbols on the reels and you'll trigger 10 free spins! You'll also unlock more rows giving you more chance to hit paylines and win more money.
Swooping reels occur when you win a winning combination. The symbols disappear and more swoop down to replace them meaning you get an extra chance of making a winning combination. At the top you'll notice 3 frozen rows. When you win the row above will melt giving you more paylines and a x3 multiplier. When you hit 3 winning combinations in a row the top row will melt and you'll get x5 multiplier. These rows will stay unfrozen until you don't make a winning payline and the reels will refreeze.
Wilds
There are also two types of wild symbols in the game. You have regular wild and a spreading wild.  Regular wilds appear on reels 4 and 5 during the base game and spreading wilds appear on reels 1, 2 and 3.  During the free spins round regular wilds appear on reels 1, 2, 4 and 5. Spreading wilds appear on reels 2, 3 and 4 whilst free spins are in session. Naturally you'll be happy to hit wilds and increase your chances of winning!
Where can you play Crystal Queen?
If you want to play Crystal Queen for real money you will need to open a new online casino account.  You should register at a fully licensed and regulated casino to make sure your information and transactions are safe and secure. If you want to try this game for free you can play it at CasinosJungle.com.
Any online casino operator that is hosting Quickspin games will most likely have the Crystal Queen slot game available. You'll be able to play on your mobile or on desktop. Let's hope you get a lucky break and hit a big win hot enough to defrost even the iciest Queen.