Is there anything quite so nice and cosy and cuddling up under a big blanket on the couch and watching a winter movie? You've got movie snacks like hot, buttered popcorn. Maybe the doorbell rings and a fresh pizza arrives! Outside it's cold and the wind is howling and on your screen is a frosty wonderland. Now the scene is set, let's discuss some of the best winter themed movies to enjoy!
The Day After Tomorrow:
If there was ever a shock awakening about climate change this is it. In the Day After Tomorrow, starring Jake Gyllenhall, the whole world is becoming an icy tundra.  New York is freezing over and a new ice age is coming.  Warning you may want to wear an extra jumper when you see how much snow and ice there is.
White Christmas:
This is the classic feel good romantic musical comedy starring Bing Crosby and Rosemary Clooney. Released in 1954 it's still a popular watch during the holiday season. Even if you've never seen it, you'll probably know a few lyrics. I'm dreaming, of a white Christmas just like the ones I used to know… Feel good Hollywood classic.
Home Alone:
Another Christmas movie that deserves a mention. Kevin McCallister, played by child star Macaulay Culkin, gets left alone by accident when his huge family goes on vacation. Kevin must defend his home from a couple of robbers and he does so by setting up lots of clever (and painful) tricks and traps. This is 90's slapstick comedy at it's finest.   The whole movie is set in a wintery snow scene and will certainly make you feel warm and cosy.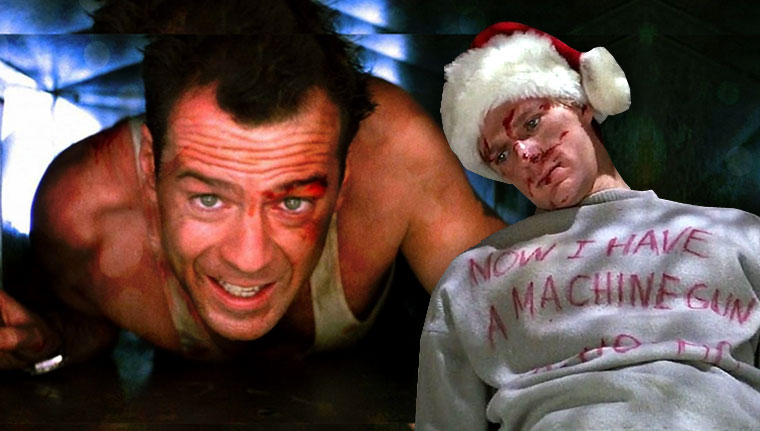 The Shining:
Let's take a dark turn and explore the movie based on Stephen King's novel, The Shining. The film starts off bright and sunny with Jack Nicholson playing writer Jack Torrance taking his wife and son to a remote hotel in the Rockies. The winter rolls in and with it Jack starts to lose his mind… This is a classic Kubrick movie. Scary, creepy and exciting and all set in the snowy Rocky mountains. You'll be glad you have a warm blanket to hide behind!
Die Hard:
This brilliant Bruce Willis action movie has it all.  It's Christmas Eve and a load of office workers having their staff Christmas party in the Nakatomi Plaza, including hero John McClane's wife.  German villain Hans Gruber holds the party goers hostage in order to steal millions in bonds and its up to John McClane to save the day. Action and adventure in the dead of a winter's night.   Perfect!
The Revenant:
This 2015 movie starring Leonardo DiCaprio and Tom Hardy will certainly make you feel glad you're in a nice warm home. The main characters are out on a fur trading expedition through the American wilderness. It is freezing cold and the protagonist must overcome many difficult challenges in order to survive the wild. He also nearly gets killed by a grizzly bear, so it's a pretty hard time for him.  Not a feel good movie but it is an epic and won plenty of awards.
There are a ton of Christmas themed movies that you might also enjoy for your winter themed home cinema session. What about Polar Express, The Santa Clause, Scrooged, How The Grinch Stole Christmas or A Christmas Carol just for starters? Whatever you choose, enjoy it!
The Best Winter Movies Ever